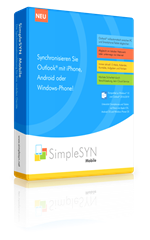 SimpleSYN Mobile
Synchronizes Outlook with iPhone, iPad or Android device
No storage of personal Outlook data in the cloud
For 1 user / PC and 5 devices (smartphones, tablets)
Subscription or one time payment
from EUR5.90 / month
EUR5.90 (incl. 19 % VAT)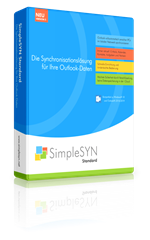 SimpleSYN Standard
Synchronizes Outlook between Windows PCs in the local network (LAN, WLAN)
No storage of personal Outlook data in the cloud
One time payment
No. of PCs/users
EUR49.90
EUR24.95 per license (incl. 19% VAT)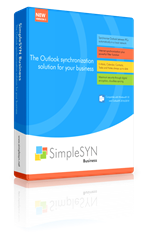 SimpleSYN Business
Synchronizes Outlook between Windows PCs in the local network (LAN, WLAN)
Synchronizes Outlook between Windows PCs over the Internet
No storage of personal Outlook data in the cloud
Powerful filter function
Supports a Windows service
One time payment
No. of PCs/users
EUR69.90
EUR34.95 per license (incl. 19% VAT)
Information
Payment is handled by our partner Digital River GmbH (share*it!). The Digital River GmbH is the authorized reseller and merchant of the products and services offered within this store.
Note how many licenses you need for SimpleSYN Standard/Business:
You`ll need a license per computer you want to synchronize. For example: If you wish to synchronize Outlook between your laptop and your desktop computer, you will need two licenses. If you want to synchronize 3 computers, you`ll need 3 licenses, etc. If you want to use SimpleSYN on a terminal server with different users, you need a license for each user.
---
Note how many licenses you need for SimpleSYN Mobile:
With a license you can activate SimpleSYN Mobile on a Windows PC and synchronize up to 5 end devices (smartphones, tablets). If you want to use SimpleSYN Mobile on several Windows-PCs, you need additional licenses.
Your SimpleSYN Standard/Business licenses comes with lifetime of use without any recurring billing or time limits on use. All updates within the same main version (eg version 5.0 to version 5.0.1 etc.) are included. Major upgrades to new versions (eg version 5.x to version 6) are optional and available for an additional low price.
SimpleSYN Mobile licenses are offered as lifetime licenses and also as a subscription with a monthly or annual payment.
After receipt of payment you will receive the license data in an e-mail along with your invoice in PDF from Digital River GmbH. SimpleSYN is ready to use once downloaded, no hard copy will be sent.
How to unlock to the full version SimpleSYN Standard/Business and

SimpleSYN Mobile.
Ask about our discounts for school, university students, teachers and multiple licenses. Do you have any questions about our products? Please contact us, we will be happy to advise you!