SimpleSYN Standard NEW - Version 6
Synchronize Outlook between your Windows-PCs via local network
SimpleSYN Standard is the ideal and powerful syncing-software for all private users and small companies who are looking to synchronize Outlook automatically, securely and competitively via local network (LAN, WLAN, VPN).
Important e-mails, appointments, notes, contacts and tasks are immediately up-to-date on all PCs. The installation and configuration is completed in a few moments. Thanks to the intuitive interface, new users can easily set up SimpleSYN.
From now on you won't need an exchange server or any other server solution any more to synchronize Outlook. Optimize your operational flow, save cash and the expenses for continuous server support by using SimpleSYN
Whether you wish to synchronize e-mails, appointments, contacts, notes or tasks, SimpleSYN will keep your Outlook data up-to-date and uniform.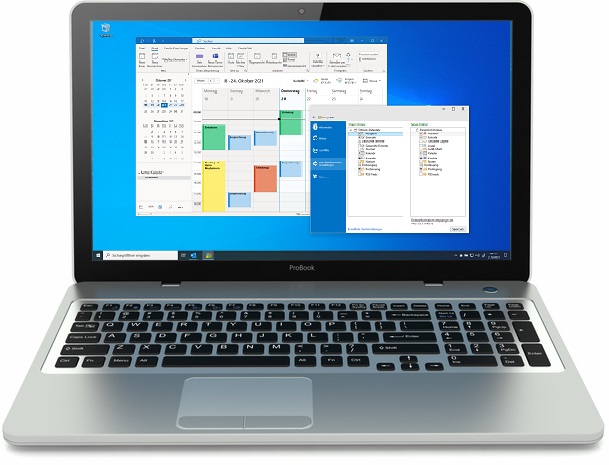 Synchronize Outlook in a local network
Synchronizes emails (POP3), appointments, contacts, notes and tasks between multiple computers via local network (LAN, WLAN, VPN).
Optimal data exchange
After the initial synchronization SimpleSYN only synchronizes changes to the Outlook database.
Completely flexible synchronization
Direction and type of Outlook synchronization (new, altered and deleted items) can be individually set up for each folder.
Free feature: Delete Outlook duplicates
The duplicate Finder is an easy way to quickly find and delete duplicate Outlook elements.
Maximum security
Through digital encryption (uses SSL or TLS respectively). Cloudless syncing, no cloud-service necessary.
Highly satisfied customer feedback
Our customers are highly satisfied with SimpleSYN. SimpleSYN also managed to convince the trade press.
Lifetime license
With no monthly or annual fees. From only 59.90 Euro (incl. 19% VAT) for 2 computers.
Optimized for Outlook 2021
Compatible with Outlook 2021 (Microsoft/Office 365 with Outlook).
Lifetime licenses
Top customer reviews
Great customer support
Low prices
Microsoft-Partner
Designed for Outlook 2021
For more than 14 years on the market
Lauded by the trade press
Continuous development
Global customer base
Maximum security

through digital encryption
Cloudless syncing
Outstanding value for money!
SimpleSYN synchronizes Outlook without cumbersome exchange servers or other server solutions.
That way you save money and the burden of regular server support. SimpleSYN Standard is available for only 59.90 Euro (incl. 19% VAT) with a 2-Computer lifetime license. Additional single licenses cost only 29.95 Euro (incl. 19% VAT) per computer. This also makes SimpleSYN ideally suited for private users looking to competitively synchronize Outlook.
Discover the efficiency and capabilities of SimpleSYN for yourself by testing the full version download for 30 days risk free. Test and compare; we're sure you'll agree it will Simplify your syncing needs!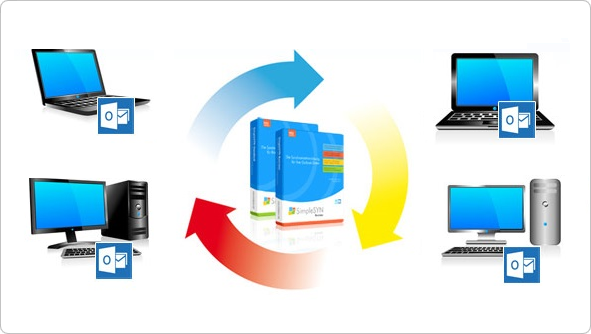 The ideal tool for companies and private users
SimpleSYN is the ideal software for work teams and companies who must frequently exchange Outlook data. With SimpleSYN you can use Outlook together as a team to keep a shared calendar current or to provide a central databank for contacts.
SimpleSYN also offers the ideal platform for sales representatives or individuals to achieve a fast Outlook synchronization between various computers.
---
Cloudless syncing

All data is always up to date
Optimal data exchange
Synchronize Outlook individually for each computer
SimpleSYN is completely flexible in its setup. Direction and type of synchronization (new, altered and deleted elements) can be individually configured for every Outlook folder. This way you can synchronize changes to the Outlook database in one direction only or just synchronize new and altered e-mails.

Would you like to synchronize different Outlook folders on several computers? SimpleSYN can deliver! You can configure SimpleSYN individually on multiple computers so that your coworker receives the newest appointments and tasks, but not the e-mails irrelevant to her work.
Quick to install, optimal data synchronization
Only a few simple steps and the practical sync-software is installed, ready to use, and running unobtrusively in the background. After the initial synchronization the program initiates the data exchange automatically as soon as an Outlook item is changed on a computer. The clear and intuitive user interface allows new users to easily navigate through the program.