The Outlook synchronization solution
Sync Outlook

between two or more Windows PCs – in real-time

Synchronize Outlook

in a local network or on the way via the Internet

Always up-to-date

– Emails, Calendar, Contacts, Tasks, Notes

Powerful business functionality

like a filter function, user administration, Windows service

Comprehensive security

through digital encryption

Cloudless syncing

– your data is never stored online

Quick setup

and easy to use

Free features

like a "Outlook duplicate finder"

Ideal sync tool

for companies, teams, freelancers and individuals

Lauded

by the trade press and our customers

Compatible

with Windows 10 and Outlook 2019 (Outlook 365)

Lifetime license

, no additional monthly costs
---
NEW SimpleSYN Version 5 released. read more
---
Superb

test results in Europe`s top IT magazine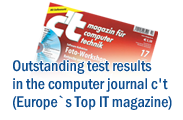 In the issue of the computer journal c't 17/09 (German computer journal) there was a comparison test of various tools for synchronizing Outlook. The positive conclusion drawn by the editorial staff: SimpleSYN was very convincing, quickly setup and configured. After that the user no longer needed to worry about operating the program, as it synchronized the Outlook data reliably in the background, and almost in real-time.
read more
The right solution for everyone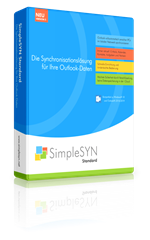 SimpleSYN Standard
The synchronization solution for small businesses and private individuals. Synchronize Outlook on multiple computers automatically and securely in a local network.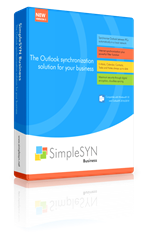 SimpleSYN Business
The synchronization solution for companies and teams. Synchronize Outlook on multiple computers automatically and securely in a local network or via the Internet. Includes business features such as filters and a Windows service.
What customers say
Excellent product. Easy to use, accurate and works exactly as advertised. I can now take my laptop on the road. When I get back home I can quickly synchronize the desktop and laptop. No more worries about losing email.
Don Shelton
Works terriffic for me in synchronizing between laptop and Windows 7 PC
Henk Bos
We tried so many outlook sync programs all had their own faults, this is the only one that works for us. Simple to set up, once there forget it because from then on SimpleSyn does it all for you. Great product thanks.
PrimeAce Chauffeur Service UK.
I spent several months on and off researching synchronisation programmes, as they are an invaluable tool for our business. I piloted several alternative solutions from other providers before making a decision, and quickly discovered that SimpleSYN not only does what it says it does, it also represents terrific value for money. I have had a couple of issues over the last two years running with this programme, and I hasten to add that they were ALL self-inflicted and nothing to do with the programme itself! Torsten and Georg at SimpleSYN support never let me down and always came back with a solution. I cannot recommend this programme or the company more highly, and I'm certain that you also will not be disappointed.
Peter Knights-Whittome
I have been using for several years. It is an excellent product and technical service, which is rarely needed, is excellent.
Martin Van Sickels
I LOVE this program! I've recently upgraded the laptop and desktop computers, now running Windows 7. Being able to synchronise everything in Outlook 2007 so easily is sheer bliss! Everyone is, literally, "on the same page"!
Colleen Woolley (Diamond Creek, Australia)
I've tried them all. This is the only Outlook syncing app that makes sense. And it works. All the time.
Marc Erdrich
previous review
next review
Fully automatic synchronization
The synchronization of Outlook is carried out automatically in the background, as soon as an Outlook item is altered (for example, you receive a new e-mail or creating a new appointment). All selected folders are synchronized in real time and always kept up-to-date. The Outlook sync is bidirectional or can be done in one direction per folder.
Sync Outlook in a local network or via Internet
SimpleSYN synchronize Outlook between multiple computers in a local network. The synchronization can be optionally carried out over the Internet (SimpleSYN Business), allowing a global data exchange.
Powerful additional functions
The powerful filter function lets you exclude certain Outlook items from the synchronization process. There are various filter modes at your disposal. The duplicate finder provides an easy and fast method to find and delete Outlook duplicates. With the Windows service you can start SimpleSYN automatically even if no user is logged on to Windows.
Maximum security
Communication is already highly encrypted in the default setting (uses SSL or TLS respectively) and guarantees highest security while synchronizing. No Outlook data is stored in the cloud. SimpleSYN synchronized your data directly between your computers. For additional security, SimpleSYN is digitally signed by "Code Signing". As a publisher of the software, we are always reliably identifiable.
The cloudless way to synchronize your Mails, Calendars, Contacts, Tasks and Notes between multiple Computers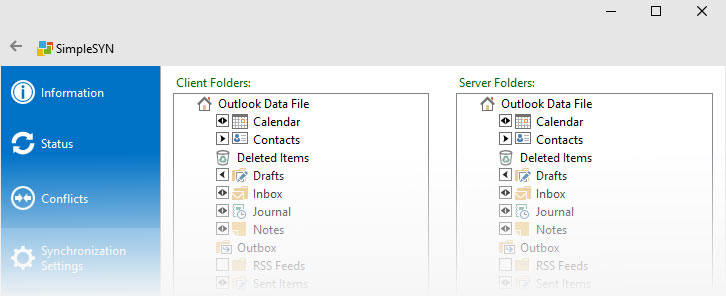 With SimpleSYN you can sync Outlook between two or more computers in a local network or independent of your location over the internet in real-time - simply, securely and without any cloud service!
SimpleSYN is the best Outlook sync software for all companies, teams, government officials, freelancers or anyone who would like to synchronize their Outlook emails, calendars, contacts, tasks or notes automatically, safely and quickly (Note: Apple iPhone or Android was no supported).
Low prices, Lifetime license
A lifetime license with an unlimited duration of use is available for 2 PCs in the standard edition for absolutely low 49.90 Euro (including 19% VAT).
Test SimpleSYN for 30 days free
In order to give you an opportunity to get a closer look at the Outlook synchronization yourself, we provide a free trial version on our download page that you can thoroughly try out without any limitations for 30 days.
Sync Outlook 30 Days Free - Download now
10 reasons, why you should use SimpleSYN to synchronize Outlook
How to sync Outlook Calendars between your computers
SimpleSYN not only keeps your emails on all computers up to date, it also synchronizes your Outlook contacts, notes, to-do lists and sync your Outlook calendar between your desktop computer and your laptop and allows you to share your Outlook calendar with coworkers.
Synchronize Outlook in a Network between multiple computers
The standard-edition is convenient for all users who seek to synchronize Outlook on various computers automatically in a local network. Synchronize your Outlook data between laptop and desktop PC or use the handy synchronization tool to use Outlook collectively in a team. As SimpleSYN negates the need for a costly server you save money for the cost of the purchase as well as the continued expense of constant server support.
More info
Outlook Sync via the Internet
With the business-edition you`re not only able to sync Outlook within a local network but also over the internet – worldwide, independent of a cloud service, and regardless of your location. Ideally to synchronize the laptop with the office PC on the way. The connection is versatile. In your local network you can still synchronize Outlook via LAN/WLAN, when away on business you can sync Outlook securely via the internet. Additionally, the business version comes equipped with a powerful filter function. Private appointments or personally marked elements can be easily excluded from the Outlook sync.
More info
Compatible with Windows 10 and Outlook 2019 (Office 365)
SimpleSYN runs on Windows 10, Windows 8 or Windows 7 and can synchronize Outlook 2019, Outlook 2016 or Outlook 2013. The Outlook sync also works in mixed environments.
The SimpleSyn software is very easy to use, simply install the program on all computers that need to be synchronized with one another. The handy set-up wizard will automatically start after the installation and enables even inexperienced users to easily configure the sync tool themselves. After set-up, SimpleSYN is ready for use and you can start the Outlook sync right away.
Previous
Next