How to sync Outlook calendars between multiple computers
Are you looking for an efficient way to synchronize your Outlook calendar or share your Outlook calender with your employees?
The solution is - SimpleSYN.
SimpleSYN makes it easy to sync your Outlook calendar and with it your schedule and appointments on all your PCs. After synchronizing, all your calendars will be current and up-to-date. You can sync your calendar between your desktop-pc and your laptop or you can share your Outlook calendar with your employees. No exchange-server required!
In a few simple steps, SimpleSYN is installed in a few simple steps and ready to synchronize your calendar. As soon as you enter a new appointment or change an existing appointment in your Outlook calendar SimpleSYN will synchronize it – automatically and unobtrusively in the background.
Using the powerful filter function (Business Version only) private appointments can be efficiently excluded from the synchronization process.
Test SimpleSYN for 30 days free!
See how to synchronize different Outlook calenders
I you want to use different Outlook calendars for each user, you will have to create separate calendar folders in Outlook and sync them accordingly. E.g. you can create a Outlook calendar folder for all other users on each computer and sync the main Outlook calendar to the folder named as a user.
Example folder setup in Outlook:
PC 1 (Server)
PC 2 (Client 1)
PC 3 (Client 2)
Calendar
Calendar Client 1
Calendar Client 2
Calendar
Calendar Server
Calendar Client 2
Calendar
Calendar Server
Calendar Client 1
Setup "Synchronization Settings" PC 2 (Client 1):
| | | |
| --- | --- | --- |
| Client folders | | Server folders |
| Calendar | <-> | Calendar Client 1 |
| Calendar Server | <-> | Calendar |
| Calendar Client 2 | <-> | Calendar Client 2 |
Setup "Synchronization Settings" PC 3 (Client 2):
| Client folders | | Server folders |
| --- | --- | --- |
| Calendar | <-> | Calendar Client 2 |
| Calendar Server | <-> | Calendar |
| Calendar Client 1 | <-> | Calendar Client 1 |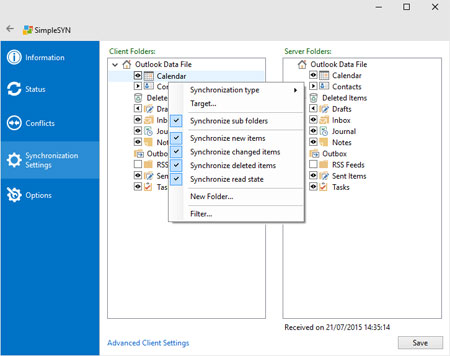 SimpleSYN synchronizes all appointments in a common calendar or, optionally, in specific subfolders of every participant