How to sync the Outlook calendar
You are already using an IMAP account to synchronize the Outlook emails.
But how can you effectively synchronize the Outlook calendar between your employees without Exchange Server so that all appointments are always up-to-date?
With the Outlook synchronization tool SimpleSYN it is easy to synchronize two or more Outlook calendars and to keep all appointments up to date.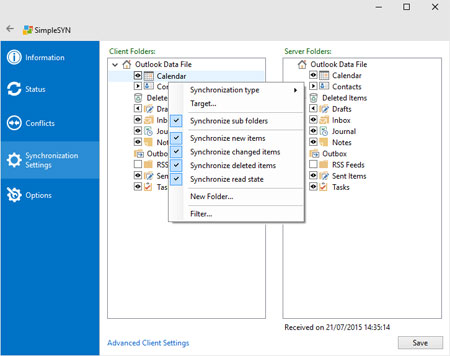 Use a Outlook group calendar
SimpleSYN makes it easy to sync your Outlook calendar and with it your schedule and appointments on all your PCs. After synchronizing, all your Outlook calendars will be up-to-date. You can sync your calendar between your desktop-pc and your laptop or you can share your Outlook calendar with your employees. No exchange-server required!
In a few simple steps, SimpleSYN is installed and ready to synchronize your Outlook calendar. As soon as you enter a new appointment or change an existing appointment in your Outlook calendar SimpleSYN will synchronize it – automatically and unobtrusively in the background.
All appointments are synchronized in a common Outlook group calendar or alternatively in the respective subfolder of each employee - ideal to organize the Outlook calendar in workgroups and companies.
In addition, the Outlook calendar sync can be configured individually on all PCs. For example, it is possible to synchronize only the new appointments on one workstation and deactivate the synchronization of deleted appointments. On another workstation, you can set SimpleSYN so that only changed appointments are synchronized.
Sync without cloud
The data exchange with SimpleSYN is secure at any time, because SimpleSYN does not store your calendar data on an external server, no cloud service is used!
Customize the Outlook calendar sync to you needs
With the powerful Filter feature of the Business Version, you can quickly and easily exclude private appointments from the Outlook synchronization. These appointments are no longer visible to your colleagues. With the filter function, you can protect your sensitive data. However, SimpleSYN can not only synchronize the Outlook calendar, but also synchronizes all other Outlook elements in real time, such as e-mails, contacts, tasks and notes.
SimpleSYN is therefore ideal for all companies, teams, freelancers and individuals who want to synchronize all Outlook data without Exchange servers cost-effectively and securely.
NEW - Version 6
Why SimpleSYN
With SimpleSYN, you can keep the Outlook calendar synchronized between your employees - in real time
With the business version, you can also synchronize the calendar in separate networks via Internet
You can also synchronize all other data such as e-mails, contacts, notes, and tasks.
With the filter function in the business version, you can quickly and easily exclude private appointments from the synchronization
Your data is secure at all times, SimpleSYN does not use a cloud service and the data transmission is highly encrypted
Quick setup and easy administration
You will receive support directly from the manufacturer
You can test the calendar synchronization for 30 days without restrictions