Keep Outlook up to date in your team
Are you looking for an efficient solution to keep your Outlook data current at every workstation?
The solution is SimpleSYN:
Emails, calendars, contacts, tasks and notes always up-to-date
Thanks to SimpleSYN, the entire Outlook data such as emails, appointments and notes are immediately and fully automatically up to date.
Manage a central Outlook contact database with SimpleSYN or use a shared Outlook team calendar. The Outlook data is immediately available on every workstation and is always up-to-date. As soon as one of your colleagues changes a contact or an appointment or creates a new one, SimpleSYN immediately synchronizes this action on all other computers in real time.
The Outlook synchronization with SimpleSYN works without an Exchange server or other server solutions. This saves you money and the effort of regular server support.

You can also configure SimpleSYN individually for each workstation, so that your coworker receives the newest appointments and tasks, but not the emails irrelevant to her work.
With the business version it is also possible to filter the elements to be synchronized. This makes it easy to exclude private appointments from Outlook synchronization, or to match only emails from a specific recipient.
Conclusion:
SimpleSYN enables a fast and secure exchange of all Outlook data and is the optimal and inexpensive synchronization solution for your company.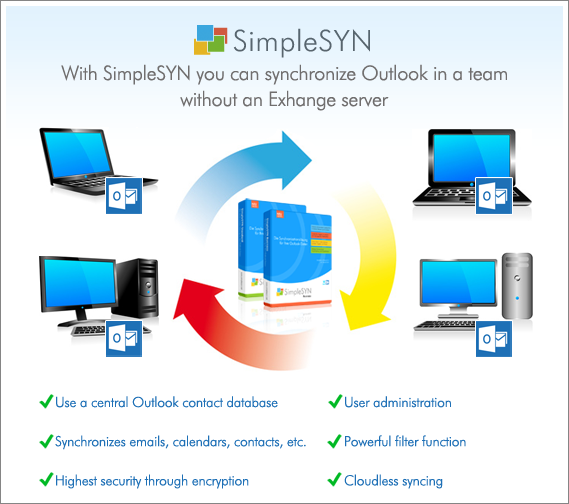 Synchronize Outlook easily and securely in a team
Complete data exchange on multiple workstations via local network or Internet. Whether e-mails, contacts, tasks, appointments, notes, status changes or labeling – all Outlook data is immediately current and accessible
Internet synchronization allows you to quickly and securely synchronize Outlook outside of the company network. Perfect for synchronization between different locations, e.g. from the home office
User administration and integration into the Windows Active Directory (AD)
Individual Outlook synchronization for each computer
Always safe, no cloud service required. Your Outlook data is not stored on external servers, your Outlook data is always secure
Extensive security of the data through digital encryption
Powerful filter function
One-off purchase for a competitive price (lifetime license)
You save money, because no other server solutions or constant server support are required