Share Outlook with your team
Are you looking for an efficient solution to keep your Outlook data current at every workstation? The answer is SimpleSYN:
SimpleSYN immediately and automatically updates all your Outlook data with your coworkers. The Outlook synchronization with SimpleSYN eliminates the need for a costly server which saves you money as well as the continued expense of constant server support.

With SimpleSYN you can share your Outlook calendar with your team or you can sync your e-mails, contacts, notes or tasks. You can also configure SimpleSYN individually for each workstation, so that your coworker receives the newest appointments and tasks, but not the e-mails irrelevant to her work.
Why you should use SimpleSYN for synchronizing Outlook in your team:
Complete data exchange on multiple workstations via local network or Internet. Whether e-mails, contacts, tasks, appointments, notes, status changes or labeling – all Outlook data is immediately current and accessible
Assignment of user privileges, user administration and integration into the Windows Active Directory (AD)
Individual Outlook synchronization for each computer
Always safe, no cloud service required
Extensive security of the data through digital encryption
Powerful filter function
One-off purchase for a competitive price (lifetime license)
You save money, because no other server solutions or constant server support are required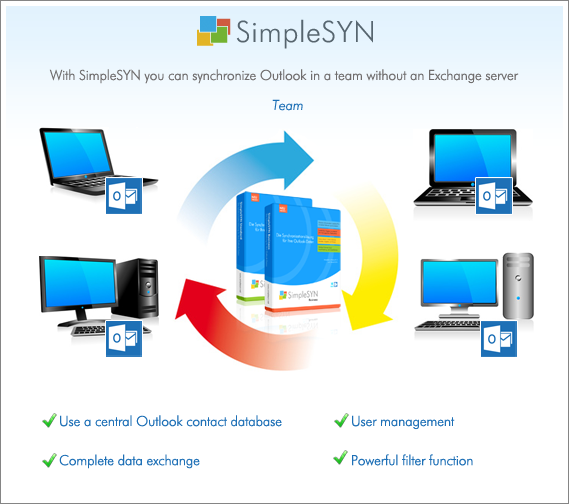 SimpleSYN is the optimal and competitive synchronization solution for all work teams and firms.