SimpleSYN Business NEW - Version 6
Synchronize Outlook between Windows PCs over the internet
With the SimpleSYN Business-Edition, you can synchronize Outlook automatically and cloudless between several computers in the local network or over the Internet, regardless of location.
The Business-Edition is ideally to use a common Outlook calendar in a team, to access a central Outlook contact database or to synchronize important e-mails and contacts with the office PC with the laptop while on the way.
The powerful filter function makes it child's play for you to decide which Outlook items should be exchanged. SimpleSYN is ideal for excluding privately marked appointments from the synchronization process, or only allowing the synchronization of certain e-mails sorted by size, attachments or recipient. To make it easier to work on a shared calendar in everyday office life, reminders or categories can be excluded from synchronization. The reading status of e-mails can also be set to a specified value during synchronization.
The Business-Edition is also optimized for use on server systems and can be started automatically via Windows service.
Whether in the office, in the home office, at the customer or on the way, your emails, appointments, notes and contacts are always up to date. Choose a cost-effective synchronization solution that eliminates the need for an Exchange server, cloud services, or other external servers and enhances collaboration within your organization.
Synchronize Outlook via the Internet
Synchronizes emails (POP3), appointments, contacts, notes and tasks between multiple computers via local network or independent of location through Internet synchronization.
Optimal data exchange
After the initial synchronization SimpleSYN only synchronizes changes to the Outlook database.
Completely flexible synchronization
Direction and type of Outlook synchronization (new, altered and deleted items) can be individually set up for each folder.
Free feature: Delete Outlook duplicates
The duplicate Finder is an easy way to quickly find and delete duplicate Outlook elements.
Powerful business functionality
Like a filter function, advanced synchronization settings or starting via Windows service.
Perfect teamwork
Use shared project folders, a central contact database or a team calendar.
Maximum security
Through digital encryption (uses SSL or TLS respectively). Cloudless syncing, no cloud-service necessary.
Highly satisfied customer feedback
Our customers are highly satisfied with SimpleSYN. SimpleSYN also managed to convince the trade press.
Lifetime license
With no monthly or annual fees. From only 79.90 Euro (incl. 19% VAT) for 2 computers.
Optimized for Outlook 2021
Compatible with Outlook 2021 (Microsoft/Office 365 with Outlook).
Lifetime licenses
Top customer reviews
Great customer support
Low prices
Microsoft-Partner
Designed for Outlook 2021
For more than 14 years on the market
Lauded by the trade press
Continuous development
Global customer base
Maximum security

through digital encryption
Cloudless syncing
Save time and money, Outstanding value for money!
SimpleSYN synchronizes Outlook without cumbersome exchange servers or other server solutions. That way you save money and avoid the burden of regular server support. The Business Version is available for only 79.90 Euro (incl. 19% VAT) with a 2-Computer lifetime license. Additional single licenses cost only 39.95 Euro (incl. 19% VAT) per computer.
In the office you can synchronize Outlook consisting of e.g. five workstations for only 199.75 Euro (incl. 19% VAT).
Discover the efficiency and capabilities of SimpleSYN for yourself by testing the full version download for 30 days risk free. Test and compare; we're sure you'll agree it will Simplify your syncing needs!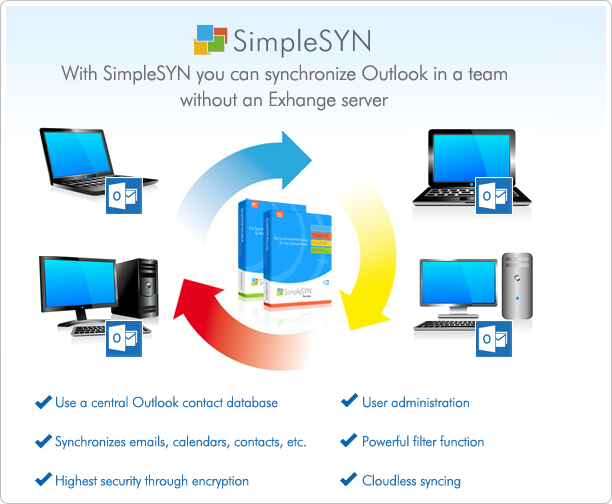 For companies, teams and home office!
SimpleSYN is the ideal software for work teams and companies looking to regularly exchange Outlook data. The Business Version gives complete freedom of location. No matter where you are, at work or on site with a client, SimpleSYN allows you to globally synchronize your Outlook data via the Internet. SimpleSYN Business is also the perfect solution for the home office to sync Outlook data in the office from home.
If you would like to synchronize Outlook between several users, for example in a team, SimpleSYN can be individually configured thanks to the integrated user administration. You decide which data you share with which colleagues. This way you can easily exclude individual folders from synchronization. Only the folders that you have shared with a specific user can be viewed. For example, your work colleague receives the new appointments and tasks; but not the e-mails, as they are irrelevant to his work.
The optimal solution for
Work team, Freelancers, Comanies, Sales representatives, Government officials, Private individuals, Schools, Sales, Hotels, Business Enterprises, Trade, Agencies
Synchronize Outlook individually for each computer
SimpleSYN is completely flexible in its setup. Direction and type of synchronization (new, altered and deleted elements) can be individually configured for every Outlook folder. This way you can synchronize changes to the Outlook database in one direction only or just synchronize new and altered e-mails.

Would you like to synchronize different Outlook folders on several computers? SimpleSYN can deliver! You can configure SimpleSYN individually on multiple computers so that your coworker receives the newest appointments and tasks, but not the e-mails irrelevant to her work.
Quick to install, optimal data synchronization
Only a few simple steps and the practical sync-software is installed, ready to use, and running unobtrusively in the background. After the initial synchronization the program initiates the data exchange automatically as soon as an Outlook item is changed on a computer. The clear and intuitive user interface allows new users to easily navigate through the program.