SimpleSYN Business
Wordwide data exchange and powerful filter function
With its secure and innovative synchronization, the Business-Version offers the ideal solution for firms and individuals looking to exchange their Outlook data worldwide through the Internet - No exchange-server or other server-based solutions required!
The powerful filter function makes it child's play for you to decide which Outlook items should be exchanged. SimpleSYN is ideal for excluding privately marked appointments from the synchronization process, or only allowing the synchronization of certain e-mails sorted by size, attachments or recipient. You can start SimpleSYN als as Windows-Service. Then SimpleSYN start automatically even if no user is logged on to Windows.
From now on you won't need an exchange server or any other server solution any more to synchronize Outlook. Optimize your operational flow, save cash and the expenses for continuous server support by using SimpleSYN.
Whether you wish to synchronize e-mails, appointments, contacts, notes or tasks, SimpleSYN will keep your Outlook data up-to-date and uniform.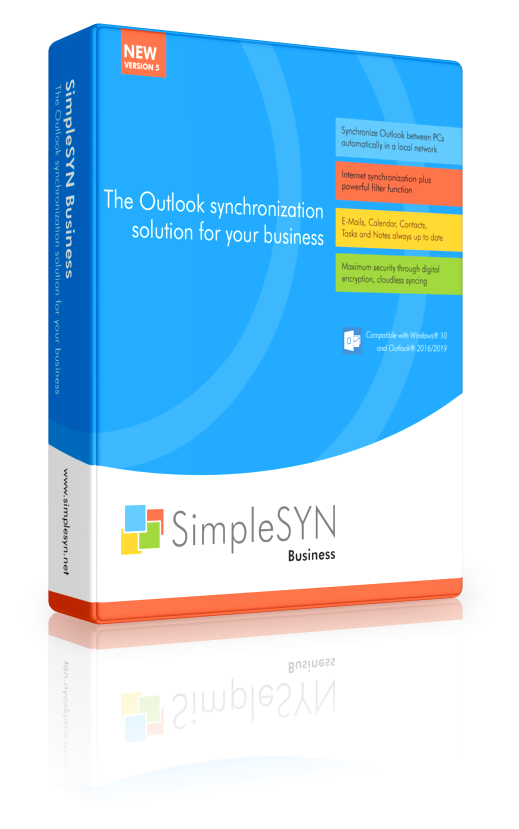 Features
Synchronizes all Outlook items on multiple computers via local network
Independent of location through Internet synchronization
After the initial synchronization SimpleSYN only synchronizes changes to the Outlook database
Windows service - start SimpleSYN automatically even if no user is logged on to Windows
Powerful filter function for synchronizing certain Outlook items
Integrated user administration and assignment of user privileges
Outlook-Sync in real-time automatically in the background
Direction and type of Outlook synchronization (new, altered and deleted items) can be individually set up for each folder
Maximum security through digital encryption (uses SSL or TLS respectively)
Cloudless syncing, no cloud-service necessary
Support for proxy servers
Lauded by the trade press
Highly satisfied customer feedback
From only 69.90 Euro (incl. 16% VAT) for 2 computers
Lifetime license with no monthly or annual fees
Fully compatible with Windows 10 and Outlook 2019 (Office 365)
Why SimpleSYN?
Lifetime licenses
Top customer reviews
Great customer support
Low prices
Microsoft-Partner with Silver competence
Designed for Windows 10 and Outlook 2019/16
For more than 14 years on the market
Lauded by the trade press
Continuous development
Global customer base
Maximum security through digital encryption
Cloudless syncing
SimpleSYN is the optimal solution for
work team
Freelancers
Comanies
Sales representatives
Government officials
Private individuals
Schools
Sales
Hotels
Business Enterprises
Trade
Agencies