With SimpleSYN you use a powerful synchronization software for Microsoft Outlook.
SimpleSYN Standard is the ideal solution for companies and individuals who want to automatically synchronize Outlook between several Windows PCs in the local network.
SimpleSYN Business contains various extras such as Internet synchronization, a filter function and a Windows service.
With SimpleSYN Mobile you can synchronize Outlook with your iPhone, iPad or Android device and always keep all Outlook data up to date.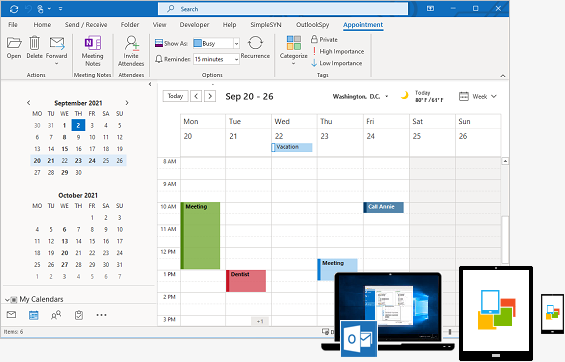 SimpleSYN Standard / Business
Completely flexible synchronization thanks to intelligent interface
SimpleSYN is 100% flexible in its setup. You decide which Outlook folders are synchronized in which direction and in what way. Synchronize your Outlook folders in one direction only or just let changed, deleted, read or unread items be synchronized with the target computer.
Optimal data exchange
After the initial synchronization, SimpleSYN only synchronizes changes to the Outlook database unobtrusively and automatically in the background. This guarantees a fast data exchange.
Conflict management
SimpleSYN offers several options for resolving synchronization conflicts. You can solve the conflicts manually or have them solved automatically by SimpleSYN. Synchronization conflicts occur, for example, when Outlook elements that are assigned to each other are changed on two or more computers without the changes having been synchronized in the meantime.
Maximum security through digital encryption
Communication is already highly encrypted in the default setting (uses SSL or TLS respectively) and guarantees highest security while synchronizing. For additional security, SimpleSYN is digitally signed by "Code Signing". As a publisher of the software, we are always reliably identifiable. The SimpleSYN client can also be authenticated and authorized via a username and password, or via Windows logon. Your Outlook data is also not stored in the cloud.
Emails, contacts, calendars, tasks and notes always up-to-date
SimpleSYN synchronizes your entire Outlook database: whether emails (POP3), contacts, tasks, appointments, notes, journal entries or even status changes - all data is up-to-date.
Fully automatic synchronization
The data synchronization between your PCs takes place automatically as soon as the Outlook database has changed (e.g. receipt of a new email, creation of a new appointment or contact). No clicking on a synchronization button is necessary, all selected folders are monitored in real time and kept up to date.
Status overview accessible at all times
The status overview offers up-to-date information on which Outlook folders are being synchronized in which direction. Hints and warnings can also be found in the status overview.
Free feature: Delete Outlook duplicates
The duplicate Finder is an easy way to quickly find and delete duplicate Outlook elements.
User administration and integration in the Windows Active Directory (AD)
You can individually configure SimpleSYN on various computers in a team environment, enabling only certain members access to your Outlook folders. Your coworker only receives the newest appointments and tasks, but not the e-mails irrelevant to her work. When setting up, you can fall back on the Windows domain user setup or use SimpleSYN's internal user administration.
Advanced network settings
The network connections used by SimpleSYN can now be configured in the advanced options. In the advanced options it is also possible to activate custom connection mode, for example to run SimpleSYN on local networks without an internet connection.
Support of proxy servers
Many business networks are connected to the Internet through a proxy server. SimpleSYN supports HTTP(S) proxy servers.
Built-in feedback form
In order to be able to offer you even better support, an integrated feedback form makes it easier to send diagnostic data.
BUSINESS
Synchronize Outlook via Internet
The synchronization can be optionally carried out over the Internet, allowing a global data exchange. There is no storage of the Outlook data on external servers.
BUSINESS
Windows service
Automatically start SimpleSYN in the background when Windows starts, without a Windows user having to log on to the system.
BUSINESS
Powerful filter function
The powerful filter function lets you exclude certain Outlook items from the synchronization process. There are various filter modes at your disposal. These are ideal for, e.g., synchronizing only your business appointments with your coworker, while excluding your private appointments.
BUSINESS
Advanced synchronization settings
Exclude reminders or categories from syncing, or set the read status of items to a preconfigured value.
Synchronizes Emails, appointments, contacts, notes and tasks
With SimpleSYN Mobile you synchronize all Outlook data between Windows PC and iPhone, iPad and Android.
Cross-platform data exchange
Synchronize Outlook between your Windows PC and devices based on Apple iOS, iPadOS and Android OS.
No data limit, local data storage
Your Outlook data is always synchronized directly and not stored in the cloud.
Synchronize regardless of location
At home or on the way, with SimpleSYN Mobile you can synchronize your Outlook data from anywhere.
Supports Windows service
SimpleSYN Mobile supports starting via Windows service as well as networks with HTTP (S) proxy servers.
Highest security
Highest security when synchronizing through encryption.