Example of use. See how you can synchronize Outlook
On the following pages you will find examples of how you can use SimpleSYN for Outlook synchronization. Whether you want to synchronize two or more PCs with the Standard / Business Edition, synchronize the Outlook calendar, look for an alternative to the Exchange server in a team or synchronize an iPhone, iPad or Android device with SimpleSYN Mobile: SimpleSYN is the ideal synchronization solution for your Outlook data.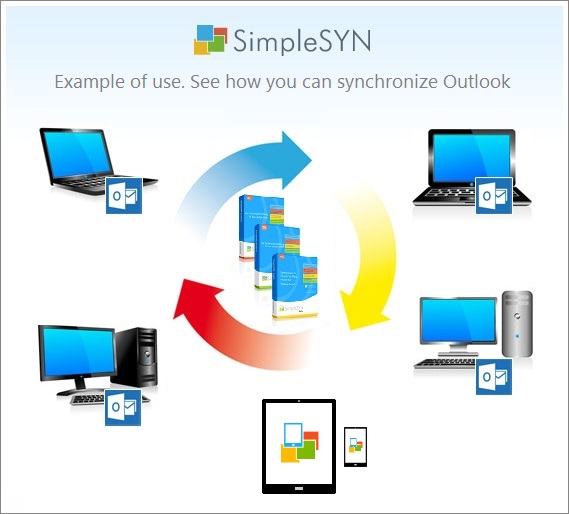 ---
Synchronizing Outlook between laptop and desktop
Due to differing requirements today many users own and use multiple computers. They use their notebook for client meetings and take care of other work at the office or at home using desktop computers. But how can the Outlook data between laptop and desktop PC be kept up to date quickly and easily?
Read more
---
Synchronize your Outlook Calendar - all appointments up to date
Are you looking for an effective solution to synchronize the Outlook calendar between your employees in the office without Exchange server, so that all appointments are always up to date? You want to use a Outlook team calendar / group calendar? SimpleSYN makes it easy to synchronize two or more Outlook calendars and keep them up-to-date
Read more
---
Keep Outlook up to date in your team
Want to keep the Outlook data up-to-date on any workplace in the office? With SimpleSYN, you can synchronize the Outlook data of the team such as e-mails, appointments and contacts fully automatically and keep them up-to-date. The sensitive Outlook data is not stored in the cloud and is always secure.
Read more
---
Outlook duplicate? How to remove the duplicate Outlook items
With the handy SimpleSYN Duplicate Finder, you can easily and quickly find duplicates of Outlook and delete it with one click.
Read more
---
How to sync Outlook with iPhone or iPad
With SimpleSYN Mobile you can synchronize Outlook with all your mobile devices. Synchronize e-mails, appointments, contacts, notes, tasks with your iPhone or iPad.
Read more
---
How to sync Outlook with Android
Synchronize your Android smartphone and keep appointments, contacts and e-mails up to date.
Read more
Elliot Trester:

I just downloaded the free sample version yesterday, and I like it so much, and you were so responsive to answering a question I had, that I bought three licenses today...
Miran:

We needed exactly what the software offers - tried a lot of available programs online, but none were working as expected. As a bonus we noticed that your software has additional features which are a good addition. Thank you!