How to sync Outlook with iPhone or iPad
Users who work with Outlook every day and have an iPhone or an iPad would also like to synchronize their Outlook data such as the calendar and contacts with the iOS device.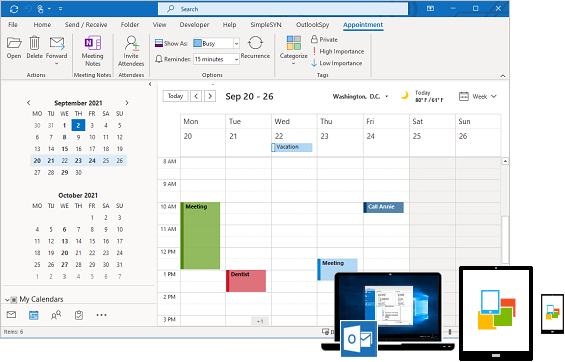 Many customers who are already using SimpleSYN Standard or SimpleSYN Business for Outlook synchronization between PCs have asked us whether we could develop additional software that also easily and reliably synchronizes smartphones such as the iPhone with Outlook.
For this reason we have developed SimpleSYN Mobile. With SimpleSYN Mobile you can synchronize Outlook with your iOS device:
bidirectional
automatically
without storing the Outlook data in the cloud
Further information about SimpleSYN Mobile and the pricing models can be found here.
Sync iPhone with Outlook - without iTunes or iCloud
You will no longer need iTunes or iCloud for iPhone synchronization in the future. You don't have to install any additional apps on your iPhone for Outlok synchronization. You simply use the integrated iOS apps and SimpleSYN Mobile ensures that the data between your devices is always kept up to date.
Synchronize your Outlook calendar with the iPhone withoud iCloud or synchronize your contacts, notes and tasks. As a special highlight, you can also use SimpleSYN Mobile to synchronize e-mails between Outlook and your iPhone or iPad.
Easy to use and quick to set up
During the development of SimpleSYN Mobile, great importance was attached to easy operation. SimpleSYN Mobile can be set up in just a few moments and is then immediately ready for the first synchronization. The user interface is clearly structured and offers quick access to the most important functions. SimpleSYN Mobile can also be configured individually and offers a range of advanced settings for all power users.
Synchronization in the local network or via the Internet
You can synchronize the Outlook data between the devices in the local network via WLAN or sync them on the way via the Internet. For example, you can create a new appointment on your iPhone while you're out and about, which is immediately synchronized with the office computer.
Sync iPhone with Outlook safely and reliably
Another important aspect during development was security, because nothing is more important than secure data transmission and the security of your personal Outlook data. Communication is already highly encrypted in the default setting (uses SSL or TLS respectively) and guarantees highest security while synchronizing.
In addition, the SimpleSYN Mobile application is authenticated and authorized via a user name and a password. Also, you can share each Outlook folder of a data file individually.
The iPhone can only sync the folders that you have explicitly selected to sync in advance. Your personal Outlook data is also not stored in the cloud. Your data always stays local on the device and is safe at all times.
Conclusion: With SimpleSYN Mobile you are using a powerful synchronization solution for all iPhones, iPads and Android devices to keep Outlook up-to-date at all times without storing data in the cloud.
Why SimpleSYN Mobile
Syncs calendar, email, contacts, notes and tasks with iPhone or iPad
Bidirectional synchronization, the data is immediately up-to-date on all devices
Synchronization in the local network or via the Internet
No storage of personal Outlook® data in the cloud
Maximum security when synchronizing Outlook® through encryption
No data limit, the data is always and at any time synchronized
Syncs iPhone without iTunes or iCloud
Proxy server support
Windows service support
Continuous development
Try it for free
Before SimpleSYN Mobile can be used for synchronization, you must set up SimpleSYN Mobile once, configure the devices you want to synchronize and connect them to SimpleSYN Mobile.
The setup process therefore includes two steps:
Installing and setting up the SimpleSYN Mobile software on your Windows® PC with Outlook® installed..
The configuration on your devices (e.g. smartphone).
More information about the setup can be found
here.