Synchronizing Outlook between desktop and laptop
Due to differing requirements today many users own and use multiple computers. They use their notebook for client meetings and take care of other work at the office or at home using desktop computers. Whether in a meeting, at work or at home, the requirements can be varying.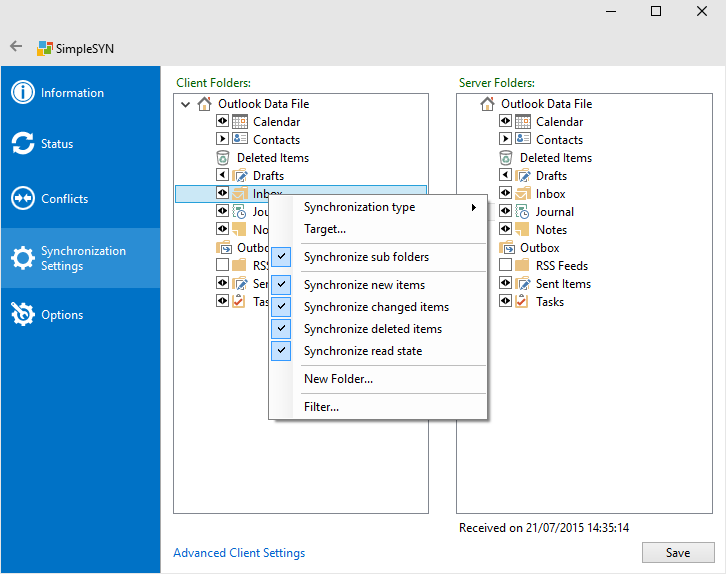 Would you like the option of accessing your current Outlook data, e-mails, contacts, notes and appointments at any time from any computer?
The tool for the job is SimpleSYN, the practical program for fast and simple Outlook synchronization between laptop and desktop.
Synchronize Outlook between multiple PCs
The Outlook synchronization with SimpleSYN works really easy:
The software must be installed once on all PCs you want to synchronize.
After the installation, the SimpleSYN setup wizard will automatically start, guiding you through the configuration step by step. You configure a PC as a SimpleSYN "server" (for example, the desktop computer) and the second PC as a SimpleSYN "client" (for example, the notebook). SimpleSYN is not only limited to the synchronization of two PCs and can also keep multiple computers up to date.
During the configuration, you can select exactly which Outlook folders you want to automatically synchronize in the future. For example, you can only select the Outlook Calendar for synchronization, or just the Contacts and the Inbox.
Cloudless synchronization
After the configuration SimpleSYN starts the initial synchronization. After the initial synchronization, SimpleSYN only synchronizes the pure changes to the data stock between notebook and desktop PC; fully automatic and in the Windows background.
The SimpleSYN standard version synchronizes Outlook in the local network (LAN, WLAN, VPN). The SimpleSYN business version also synchronizes Outlook optionally over the Internet. During synchronization, no data is stored in the cloud. SimpleSYN establishes a direct connection between the computers. All e-mails, contacts, appointments, notes and tasks remain up-to-date with SimpleSYN on all PCs.
Highest security during the Outlook synchronization
With Outlook synchronization, all data is transmitted in highly encrypted form. Of course, data transfer never overwrite data without request. For example, if you change the same appointment on the laptop and desktop while SimpleSYN is turned off, SimpleSYN will automatically detect on the next startup that you have changed the appointment on both PCs and offers you several options to resolve this synchronization conflict.
SimpleSYN is therefore also ideal for exchanging data in companies and teams who want to forego an Exchange solution.
Why SimpleSYN?
Top customer reviews
Great customer support
Microsoft-Partner
Designed for Windows 11
For more than 14 years on the market
Lauded by the trade press
Continuous development
Global customer base
Maximum security through digital encryption
No cloud-service is used for the data exchange, your personal Outlook data is always secure
With SimpleSYN you save money, because no other server solutions or the effort for regular server support is necessary