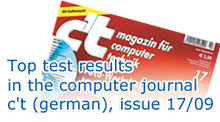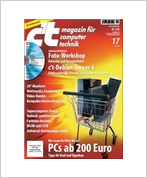 Outstanding results SimpleSYN 2.0 in main comparison test of "c't dem Magazin für Computertechnik" - issue 17/09 (german magazine)
In the issue of the computer journal c't 17/09 (German computer journal) there was a comparison test of various tools for synchronizing Outlook.
SimpleSYN was one of the programs thoroughly tested. The result:
SimpleSYN performed admirably and is by far the most competitively priced tool of the comparison.
The journal praised SimpleSYN for its ease of use and fool-proof setup. Highlighted was the point that the to be synchronized folders could be from any type of PST-files, Hotmail-Accounts and even Exchange-Mailboxes. The synchronization of Outlook data completely convinced the editorial staff. This is carried out automatically with SimpleSYN and the user receives a virtually perfectly synchronized data pool. Especially noteworthy were the intelligent check boxes with which the synchronization direction can easily be set.
In contrast to the file-based tools of the other manufacturers SimpleSYN uses the Windows interface (port) Extended Mapi. This interface allows parallel access, meaning the synchronization works on an open or closed Outlook.
Conflict resolution is also child's play with SimpleSYN. If two users change one item at the same time, they are immediately notified by SimpleSYN. Assisted by a dialogue the conflict can then be quickly resolved.
Only SimpleSYN offers the repair of broken Outlook links which have stopped referencing the existing items.
The positive conclusion drawn by the editorial staff:
SimpleSYN was very convincing, quickly setup and configured. After that the user no longer needed to worry about operating the program, as it synchronized the Outlook data reliably in the background, and almost in real-time.
SimpleSYN is also the only software in the test that allows an administration of user privileges.
The test results: SimpleSYN was awarded
| | | |
| --- | --- | --- |
| - Top marks | very good (A+) | for "Setup" |
| - Top marks | Very good (A+) | for "Operation" |
| - Mark | Good (A) | for "Function" |
| - Mark | Satisfactory (B) | for "Documentation" |
SimpleSYN is by far the least expensive tool in this comparison, despite the plethora of functions. For only 58,50 Euro you can synchronize three computers. A license for two computers costs only 39,00 Euro.
The full test can be found in the c't issue 17/09 from 03.08.2009 on the pages 142 to 147.
Source: c't issue 17/09 from 03.08.2009