Upgrade to the current major version 6 now and benefit from discounted upgrade prices.
Version 6 supports Windows 11 and Outlook 2021 and has been extensively improved and optimized in many areas. In addition, we have given version 6 some new functions and upgraded the business version with some extras. To improve working on a shared calendar in everyday office life, reminders or categories can now be excluded from synchronization. The reading status of e-mails can now also be set to a specified value during synchronization.
Many improvements (e.g. improved connection establishment, revision of the Outlook add-in, easier selection of folders in the synchronization settings) and optimizations complete the upgrade..
Upgrade to the new SimpleSYN major Version 6 and get a discount:
If you have already purchased a license for SimpleSYN version 5, you will receive a discount for the upgrade with the same license quantity.
Important note on ordering:
You`ll need a license per computer you want to synchronize.
For example: If you wish to synchronize Outlook between your laptop and your desktop computer, you will need two licenses. If you want to synchronize 3 computers, you`ll need 3 licenses, etc.
Adjust the order quantity in the shopping cart according to the order quantity you have purchased from version 5. If you would like to use version 6 on other PCs, you will need additional licenses for version 6. In this case, please contact us.
The version 5 licensee must be specified during the ordering process.
Payment is handled by our partner Digital River GmbH (share*it!). The Digital River GmbH is the authorized reseller and merchant of the products and services offered within this store.
Download:
SimpleSYN Business v6
SimpleSYN Standard v6
Documentation | Privacy | System requirements
Installation instructions:
An existing SimpleSYN installation will be replaced by the installation.
Note about upgrading from version 5:
All data is transferred during the upgrade from version 5 to version 6. The data transfer and the updating of the synchronization status takes place automatically during setup.
Please do not cancel this process, otherwise all data will be resynchronized!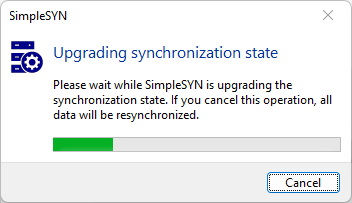 ---
The following improvements / changes are included in version 6:
New:
Reminders can be excluded from syncing to make it easier to work in a shared calendar folder (Business Edition only).

Reminders can be completely ignored.
Only closed reminders can be ignored.

The read status of items can be set to a preconfigured value during synchronization (Business Edition only).
Categories can be excluded from synchronization (Business Edition only).
Unknown categories can be automatically added to the Outlook main category list.
Makes it easy to send diagnostic data through a built-in feedback form.
Additional filter options (Business Edition only):

Sync only future appointments.
Sync only items without a category.

Filters are now also applied to sub folders (Business Edition only).
Automatic error reporting.
New state database technology.
New function for selecting folders in sync settings. All subfolders of a data file can be selected at once via the context menu.
Improvements:
Easier selection of default folders in sync settings. The default folders are now automatically mapped to each other. This applies, for example, to folders with the addition "(only this computer)".
The service functionality does not require the Windows password anymore, if all data files are stored locally (Business Edition only).
Improved connection establishment during network changes or when an Internet connection becomes available.
Improved notifications.
Improved selection of the SimpleSYN Server.
Improvements in the Outlook Add-In:

Supports Office UI themes.
Revised "Recover Deleted Items" dialog.
The duplicate finder can now be used in "Deleted Objects" folder.
The Outlook Add-In now also supports SimpleSYN Mobile.

The SimpleSYN client will always display its connection status, even if no synchronization takes place.
Backed up items are now automatically removed after 30 days by default.
It is no longer possible to assign different folder types to each other in the synchronization settings.
Improved log functionality.
Improved Outlook version detection, e.g. Outlook 20219/2021 are now correctly displayed.
Improves filtering of recurring appointments (Business Edition only).
Improved performance of the status dialog.
Improved connectivity on systems with many network connections.
Very large folder hierarchies are now not loaded at once, which allows to select the folders faster.
Improved performance for the duplicate finder.
If an folder needs to be resynchronized, it will do so immediately.
Unsynchronizable folders are not shown in the synchronization settings anymore.
While selecting a target folder for the synchronization, unavailable folders are not shown anymore.
The synchronization will start immediately after resolving a conflict.
After saving the synchronization settings, the synchronization will start faster.
Renamed the executable files to "SimpleSYN.Desktop.exe" and "SimpleSYN.Desktop.Service.exe".
Only show compatible SimpleSYN servers found on the local network.
---