Applies to version: Version 1.x, Version 2.x
The trial version of SimpleSYN Mobile can be used for 30 days without restriction. The remaining test duration can be viewed in the SimpleSYN Mobile main window in "Information".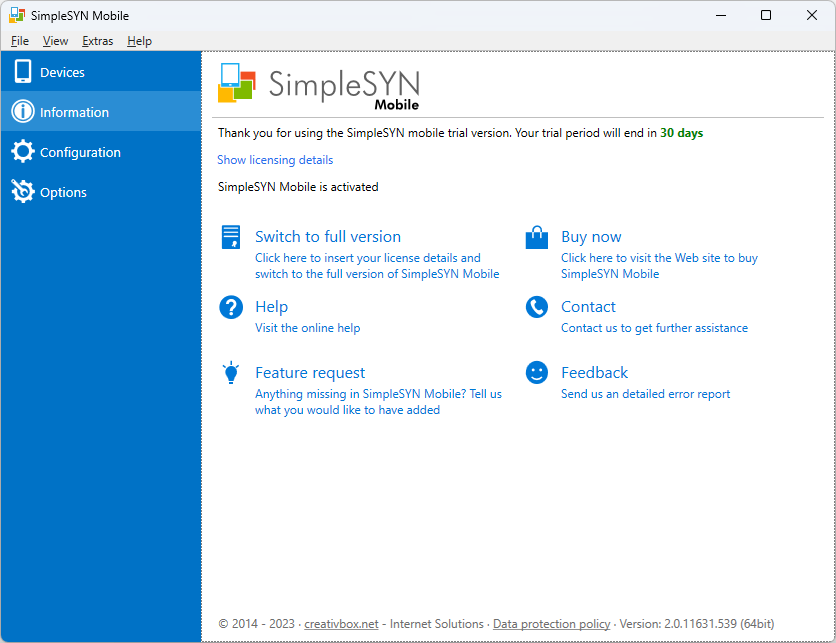 Figure 1: SimpleSYN Mobile trial
Switch to full version
Once a SimpleSYN Mobile License has been purchased, click on "Switch ti full version". In the next dialog, enter the license information. The SimpleSYN Mobile test version will be unlocked to the full version.
Buy now
Click on "Buy now" to open the SimpleSYN Mobile web page concerning the purchase of SimpleSYN Mobile licenses.
Help
Opens the online help.
Contact
Should help be needed, click on "Contact" to open the SimpleSYN contact and support web page.
Feature request
Tell us what you would like to have added.
Feedback
SimpleSYN includes a built-in function for sending feedback and diagnostic data.