Applies to version: Version 6.x
SimpleSYN cannot only perfectly synchronize Outlook® but offers additional powerful features. These can be found in the SimpleSYN menu which is directly integrated into Outlook® in the submenu "Tools" or respectively in the SimpleSYN-ribbon in Outlook®.
Image 1: SimpleSYN Add-in
Find duplicates
The SimpleSYN duplicate finder provides an easy and fast method to find and delete Outlook® duplicates. The duplicate finder searches automatically the currently selected Outlook® folder and shows all found duplicates. The duplicates can then be moved into a folder of your choice or deleted completely.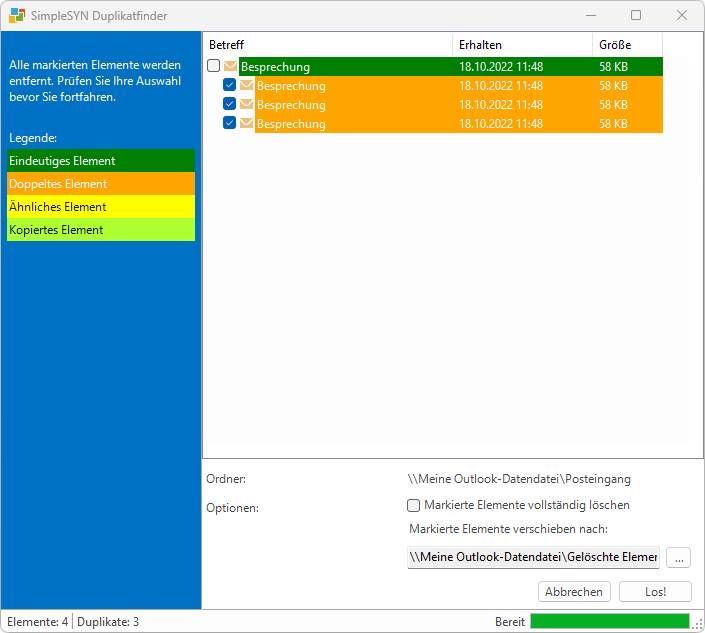 Image 2: SimpleSYN Duplicates Finder
Repair Distributions List
Distributions lists in Outlook® can contain links to contacts. These links contain an unambiguous ID which can, after being exporting and importing the list, refer no longer to correct contacts and be therefore invalid. This feature allows automatic repairs of such links. SimpleSYN tries to recover the linked contacts in the Outlook® address book. If a linked contact has been found SimpleSYN restores the link.
Restore deleted objects
Deletions and overwritten synchronization conflicts that SimpleSYN synchronizes are saved by default. Opens a dialog where you can restore items and folders..